On Moving Grief Into Action
On Moving Grief Into Action: a message from the staff of Western States Center following the tragic deaths of 49 people killed on June 12th, 2016 in Orlando during a horrific, senseless act of violence. #Pulse #Orlando #WeAreWithYou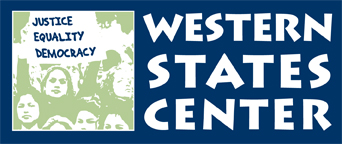 To our beloved friends, supporters and program partners:

We are mourning the tragic deaths of the 49 people killed this weekend in Orlando during a horrific, senseless act of violence. They were LGBTQ and our allies. They were mostly Latinx and from communities of color. And they all lived lives cut too short. We will remember them. We say their names.
Words fail when violence silences laughter and dancing and love.
We are all grieving for the victims and their families, but also we grieve for the sense of community we wished could be whole. We grieve for the future that may continue to justify hate, fear and violence; whether it is Islamaphobic or homophobic or racist or transphobic. We grieve for that harm that erupts from the perpetrators of such violence and wish we could reach them with love and compassion.
In this moment of grief, we want to express our love and care to community members who are lesbian, gay, bisexual, transgender, queer, genderqueer, two-spirit and gender non-conforming, and particularly to queer and trans folks of color.
We are with you.
The work of Western States Center has been held at the intersections of identities experiencing the traumatic events of this past weekend in vivid, difficult and painful ways. The staff, board and leadership within our programs hold many of these identities.
We want to extend our support to our LGBTQ Muslim friends, partners and community members, and rebuke any attempts to contort this tragedy into Islamaphobic soundbites or further acts of violence.
For those of us who work for social justice, who believe in the premise that a better world is possible, such horrific events remind us how long the road for change is and how many obstacles will be thrown in our path.
Yet we also know that grief can move us into action.
Many wonderful organizations are offering ways to publicly express our grief and call for change, and we share some of those resources at the end of this important and loving message to you.
And, for those of you living in Portland, Oregon:
join us Saturday, June 18
th
at 2pm in the North Park Blocks as we walk in solidarity for
Portland's Trans Pride March
[
link
]. Look for the Western States Center's black and white banner near the elephant statue at the start of the march!
In solidarity,

The staff of Western States Center
Kelley Weigel,
Executive Director
Tashia Harris,
Racial Justice Program Director
Amy Casso,
Gender Justice Program Director
Steve Mayes,
Finance and Operations Director
Jamee Greer,
Community Relations & Resource Development
Owen Smith,
Capacity Building Manager
Jackie Altamirano Marin,
Trainer & Organizer
Resources:


In memory of the lives lost in Orlando on June 12, 2016.
En memoria de las vidas qué perdimos en Orlando el 12 de junio del 2016.

Stanley Almodovar III, 23 years old
Amanda Alvear, 25 years old
Oscar A Aracena-Montero, 26 years old
Rodolfo Ayala-Ayala, 33 years old
Antonio Davon Brown, 29 years old
Darryl Roman Burt II, 29 years old
Angel L. Candelario-Padro, 28 years old
Juan Chevez-Martinez, 25 years old
Luis Daniel Conde, 39 years old
Cory James Connell, 21 years old
Tevin Eugene Crosby, 25 years old
Deonka Deidra Drayton, 32 years old
Simon Adrian Carrillo Fernandez, 31 years old
Leroy Valentin Fernandez, 25 years old
Mercedez Marisol Flores, 26 years old
Peter O. Gonzalez-Cruz, 22 years old
Juan Ramon Guerrero, 22 years old
Paul Terrell Henry, 41 years old
Frank Hernandez, 27 years old
Miguel Angel Honorato, 30 years old
Javier Jorge-Reyes, 40 years old
Jason Benjamin Josaphat, 19 years old
Eddie Jamoldroy Justice, 30 years old
Anthony Luis Laureanodisla, 25 years old
Christopher Andrew Leinonen, 32 years old
Alejandro Barrios Martinez, 21 years old
Brenda Lee Marquez McCool, 49 years old
Gilberto Ramon Silva Menendez, 25 years old
Kimberly Morris, 37 years old
Akyra Monet Murray, 18 years old
Luis Omar Ocasio-Capo, 20 years old
Geraldo A. Ortiz-Jimenez, 25 years old
Eric Ivan Ortiz-Rivera, 36 years old
Joel Rayon Paniagua, 32 years old
Jean Carlos Mendez Perez, 35 years old
Enrique L. Rios, Jr., 25 years old
Jean C. Nives Rodriguez, 27 years old
Xavier Emmanuel Serrano Rosado, 35 years old
Christopher Joseph Sanfeliz, 24 years old
Yilmary Rodriguez Solivan, 24 years old
Edward Sotomayor Jr., 34 years old
Shane Evan Tomlinson, 33 years old
Martin Benitez Torres, 33 years old
Jonathan Antonio Camuy Vega, 24 years old
Juan P. Rivera Velazquez, 37 years old
Luis S. Vielma, 22 years old
Franky Jimmy Dejesus Velazquez, 50 years old
Luis Daniel Wilson-Leon, 37 years old
Jerald Arthur Wright, 31 years old



Document Actions