Fall 2016 eNewsletter
In this issue: Say Hello to Se-ah-dom Edmo, BRAVE Reproductive Justice Summit Recap, WILD 2016-2017 Class Roster, and other news.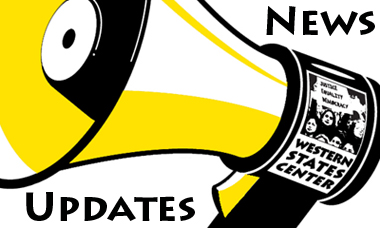 ---

Autumn brings with it familiar feelings of shortened days, pumpkin spice, and the crisp air as we hit the streets to knock doors for issues and candidates that reflect our values most; but this election season feels surreal, with its violent rhetoric and new levels of intensity impacting our communities on a daily basis. Before we share with you the important updates at the Center in this email, we remind you that Election Day is Tuesday, November 8. Every state has different rules and methods for holding elections. If you haven't registered to vote already, please visit vote.gov and do so today.

In solidarity,
The staff at Western States Center

SAY HELLO TO SE-AH-DOM EDMO

Se-ah-dom Edmo will join the staff of Western States Center at the end of October as Movement Building Director, responsible for strengthening the vital connections between our Leadership Development programs and our Gender Justice and Racial Justice programs. Se-ah-dom will lead our big training, networking and strategizing event AMP (Activists Mobilizing for Power), August 11-13, 2017 in Portland. Se-ah-dom got to know the Center through our Uniting Communities program, and was a founding member of We are BRAVE's Advisory Committee. She comes to the Center rooted in organizing and policy work around Tribal justice and American Indian issues and recently co-authored the book, American Indian Identity: Citizenship, Membership and Blood.

We are excited to welcome Se-ah-dom to the Center.

BE BOLD, BE BRAVE RJ SUMMIT RECAP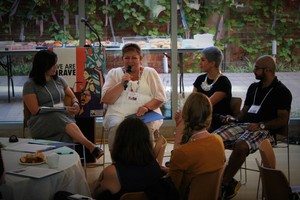 Western States Center created the Be Bold, Be BRAVE Reproductive Justice Summit to expand the conversation on reproductive health, rights and access in Oregon. Featuring nearly two dozen workshops created by participants in the Center's We are BRAVE program in the last 18 months, over 100 participants representing 54 organizations came together for two days in August to share their knowledge on reproductive justice and strategize with others. Together participants worked to deepen our collective vision for creating communities where everyone can make the health care choices that meet their own needs, without shame or stigma.

"I'm connecting messages I've received about reproduction and sexuality to my Latina heritage and understanding my family and my identity further," said one participant. Read more about this unique Reproductive Justice event on our blog.

WHO'S WILD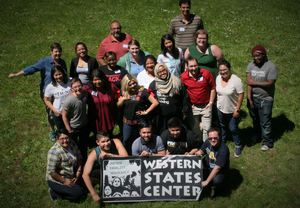 WILD, the Western Institute for Leadership Development, is a year-long intensive training program for emerging organizers and activists begun by Western States Center all the way back in 1994. We're proud to present the eleventh class of Western States Center's organizing and analysis program! This class comes from a large geographic area, but shares a vision of how working for racial, gender and economic justice are critical to the survival of our planet and its people. Together they represent many organizing strategies, identities and experiences.

Click here to view a roster of the seventeen extraordinary activists and organizers in the eleventh class of WILD. We are honored to work with these leaders on the front lines of social change.

UP IN ARMS: A NEW TOOLKIT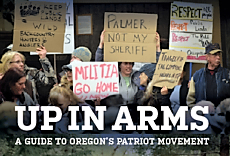 For the last two years, Rural Organizing Project has worked on the front lines with local community leaders to document, analyze, and respond to the Patriot movement's activities in Oregon, including the 41-day standoff and occupation of the Malheur National Wildlife Refuge by armed militia members. Now ROP and Political Research Associates have released a comprehensive toolkit with over 200 pages of research and resources for organizers, community leaders, elected officials, and journalists in Oregon and across the country.

You can read Up In Arms: A Guide to Oregon's Patriot Movement online. You can also place an order for a paper copy here, handy for sharing with neighbors, friends, reporters for your local newspaper, or to donate to your local library.



Find us online

Document Actions